The Kickers kick off their sixth season in USL League One against the 2022 Champs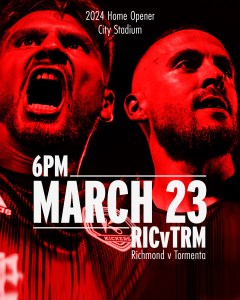 TAMPA, Fla. and RICHMOND, Va. – USL League One and the Richmond Kickers announced, Friday, that the Kickers will host South Georgia Tormenta FC during the club's USL League One home opener on March 23, 2024, at 6 p.m. at City Stadium. 
The kickoff of the 2024 USL League One season marks the 32nd consecutive season of operation for the Kickers, extending their record as the longest, continuously operating professional outdoor soccer club in the United States.
USL League One prepares to kick off its sixth season of operation following its founding in 2019. Notable newcomers adding to the prestige of the league is former-USMNT legend Jermaine Jones who will begin his first season as coach of Central Valley Fuego FC as well as the addition of a new West Coast team in expansion side Spokane Velocity in Spokane, Wash.
The Kickers will serve as the home-opener opponent for Spokane Velocity on March 16, 2024, when the Velocity kicks off their inaugural season at home.
Last season against Tormenta, Richmond split the season series, winning the first match at Tormenta 3-1 in April 2023 and drawing 1-1 at Tormenta in May 2023 before Tormenta scratched together a 1-0 win at City Stadium in Sept. 2023.
For just $50, fans can save up to $10 off their tickets to all City Stadium events, 15% off Kickers and W League RVA merchandise, and more with a CityStadium+ Membership! This steal of a deal pays for itself after your first five (5) purchased tickets. Become a member and start saving today! Additional information can be found at richmondkickers.com/csplus.
Stay up to date with all of the Kickers news at RichmondKickers.com and on social media on Facebook, Twitter, Instagram, and YouTube. Download the Richmond Kickers mobile app for news, contests, and more!