STADIUM MAP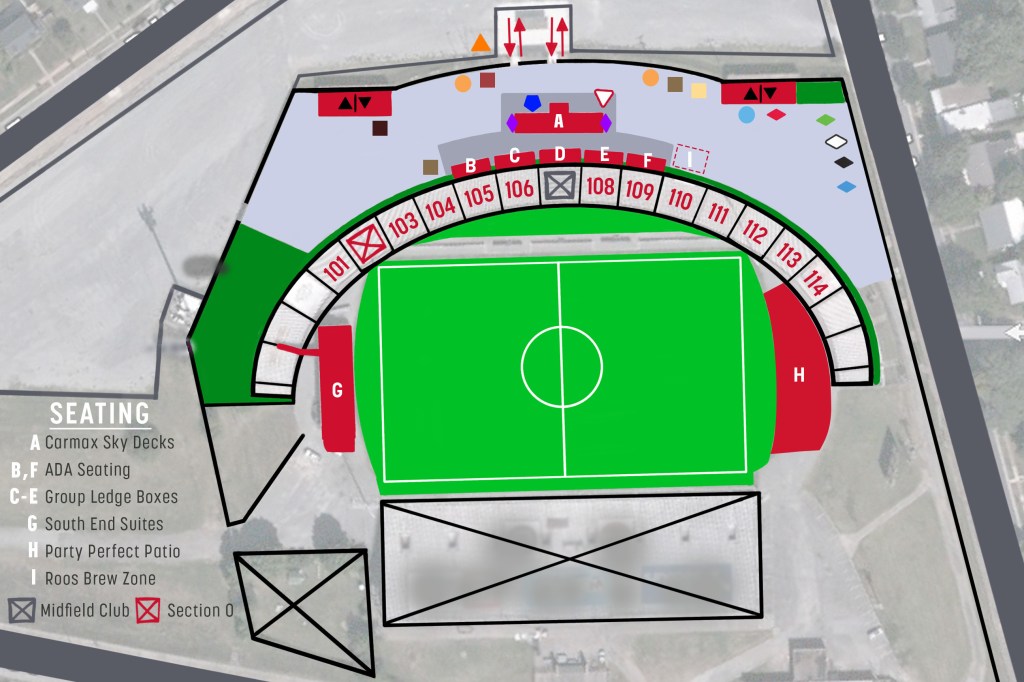 Important Matchday Information
City Stadium is a cashless venue. All transactions inside the stadium, including concessions and merchandise, require a credit or debit card. Apple Pay, Google Pay, and Samsung Pay are also accepted!
All match tickets must be purchased online at richmondkickers.com/tickets. Fans save $6 per ticket when they purchase at least one day before the match!
All guests wishing to bring personal items into the stadium must use a clear bag to ensure a contactless bag check.
No outside food or beverage will be permitted inside the stadium.
Gates will open 75 minutes prior to kickoff. Parking lots will open one hour and 45 minutes prior to kickoff. Parking is FREE for all ticket holders, but space is limited and guests are encouraged to ride-share when possible. Tailgating is not permitted.
Guests are encouraged to arrive at the stadium early to minimize queuing.
Matchday FAQ
Accessibility
Wheelchair and other ADA accessible seating is located on the concourse, adjacent to our Ledge Box areas. Please call the Ticket Office at 804-644-5425 x 309 in advance to request ADA seating or visit Fan Services upon entry to City Stadium.
Admission
All ticketing for Kickers home matches will be processed digitally. Single-game tickets will be sold in advance of each match online at richmondkickers.com/tickets or seatgeek.com/richmond-kickers-tickets/. SeatGeek is the official ticketing partner of the Richmond Kickers Pro Soccer Club. Children four and under do not require a ticket. Anyone aged five and older must have a ticket for admission to the match. Stadium gates will open to the public 75 minutes before kickoff.
Alcohol
Fans are expected to obey all state and local laws governing the purchase, possession, and consumption of alcohol while in City Stadium. Anyone under the age of 21 or visibly intoxicated will not be served alcohol. Alcohol sales will stop after the 70th minute of the match.
Bag Policy
Any personal items must be placed in a clear bag to ensure a contactless bag check.
Banners and Signs
Banners and signs with inappropriate language are not permitted inside City Stadium.
Bike Parking
Bike racks are located adjacent to the front gate at City Stadium.
Concessions
Food & Beverages are available for purchase throughout the stadium! Please find the complete list of our options and locations here.
Dogs
Dogs are allowed inside City Stadium!
Please follow these guidelines:
Respect other fans.
Keep your dog on a leash at all times.
Please keep your dog on the concourse. Dogs are not permitted in the seating bowl.
Please clean up after your dog!
Epilepsy Warning
Fans at City Stadium may experience flashing lights which may be unsuitable for those with photosensitive epilepsy.
Fan Code of Conduct
All fans must adhere to the Kickers' Fan Code of Conduct. (link) Those violating the code of conduct are subject to removal with no refund.
Fan Services
A Fan Services tent will be located inside the main gate for information on Richmond Kickers group opportunities and season ticket packages. Group leaders are encouraged to check-in here upon entry in order to pick up their group leader gift and any other benefits included within your group purchase!
Guest Services
A Guest Services tent will be located adjacent to the main gate for information on stadium policies and general inquiries. Tickets will not be available for purchase at the Guest Services tent.
Kids Policy
Children ages 4 and under do not require a ticket for entry.
Lost and Found
Lost items may be returned to the retail trailer located on the main concourse by the front gate.
Matchday Program
Download the Richmond Kickers app here to access the program on matchday and exclusive Kickers content!
Merchandise
Kickers merchandise is available for purchase in the trailer right by the front gates throughout the match. Check out shoprichmondkickers.com to browse our options and new 2023 jerseys!
Outside Food and Drink
Outside food and beverages are not permitted in City Stadium. Special considerations may be made for medical reasons.
Parking
Day of match parking at City Stadium is FREE for all ticket holders, based on availability. Please arrive early as the parking lots will fill up by kickoff! Per League guidelines, tailgating will not be permitted on the premises.
Use GRTC Route 20 to bus to City Stadium! Bike racks will also be available on site.
Parking in the surrounding neighborhood is not permitted and vehicles that do are subject to towing.
Parking lots will open one hour and 45 minutes prior to kickoff.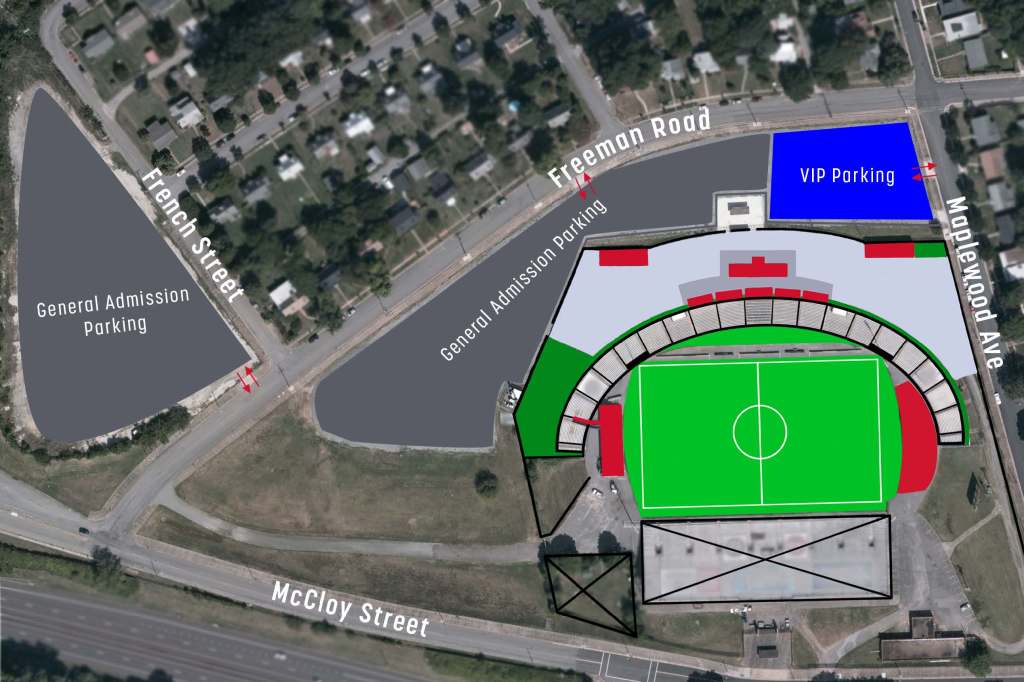 Re-Entry
Re-entry is allowed at City Stadium, however, you must be receive a hand stamp by security before leaving.
Refund Policy
There are no refunds or exchanges on parking, tickets, or concessions. See full list of all Richmond Kickers Ticket Terms & Conditions here.
Smoking
Smoking is not permitted inside City Stadium outside of the designated smoking area.
Soccer Balls
Kicking, passing or dribbling soccer balls is not permitted on the stadium concourse to ensure fan safety.
Tickets
All ticketing will be processed digitally and must be purchased online here. Advanced ticket purchase is strongly encouraged in order for fans to save money and time during the City Stadium entry process. Fans save $6 per ticket when they purchase at least one day in advance!
Weather
City Stadium is an outdoor venue and thus susceptible to bad weather. Games will be delayed in the event of lightning and will be postponed if conditions are deemed unplayable by the match officials. Postponements are very rare, but in the event the match is postponed BEFORE the 70th minute, your tickets may be exchanged for another 2023 regular-season home match, subject to availability.