The 18-year-old becomes the second Kickers player on a USL Academy Contract to sign a professional contract with the club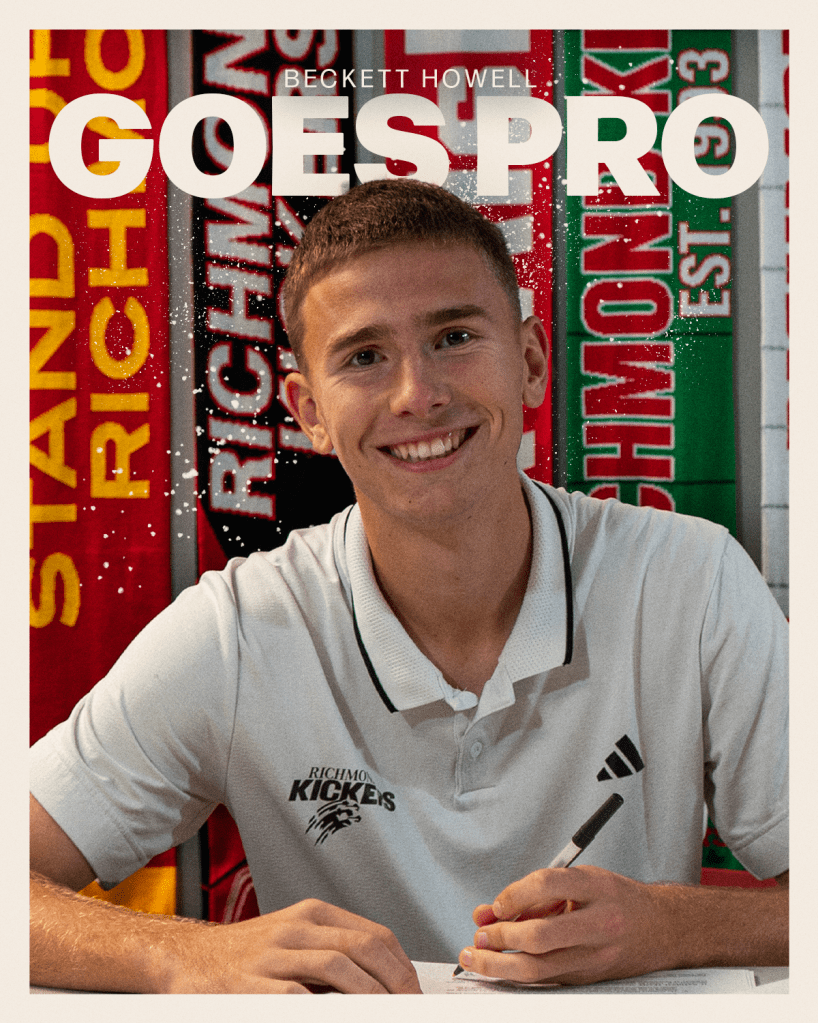 RICHMOND, Va. – The Richmond Kickers are pleased to announce that defender Beckett Howell has signed his first professional contract to represent his hometown club on a multi-year deal, pending league and federation approval.
Howell is the second academy player to sign a professional contract under Chief Sporting Officer and Head Coach Darren Sawatzky. He joins fellow Richmond United alum, Landon Johnson, who signed his first professional contract with the Kickers in September 2023.
Since joining the Kickers on a USL Academy contract in February 2023, Howell grew into an important contributor down the final stretch of the 2023 season. In league play, Howell started the final four matches of the USL League One regular season, amassing 338 of his 429 total league minutes played in that run of matches. He made 13 total appearances for the club in all competitions with his first career start coming in July 2023 during the club's international friendly against Comunicaciones FC.
A versatile defender capable of playing both centrally and on the flank, Howell won 55 percent of his aerial duels and 73 percent of his tackles. Howell started the final four matches as the team's left fullback, proving he had the motor to join the attack aggressively and get back on defense after pushing forward.
Beckett Howell said:
"When Darren first offered the contract, I felt a wave of excitement rush through my body. This is a dream I have worked so hard towards my entire life and it was finally being presented to me. I couldn't wait to go home and tell my family."
"Signing my first professional contract in Richmond means the world to me. Being able to play in front of my family and friends while representing the clubs I grew up playing for feels amazing. I want to thank Coach Kirkpatrick, Kwaku, Sascha, Cally, Will, Leigh, Conner, Mika, and Darren for guiding me through this entire process. Lastly, I want the younger players to know that I was in their position not long ago. If you work hard, seek guidance, and love the game, the possibilities are endless."
"I want the fans to know that I am extremely excited and already thinking about next season. I am going to bring the fire and passion I have for this city, into the game. I can't wait to hear Section O behind us as we represent and win for Richmond. UP THE ROOS!"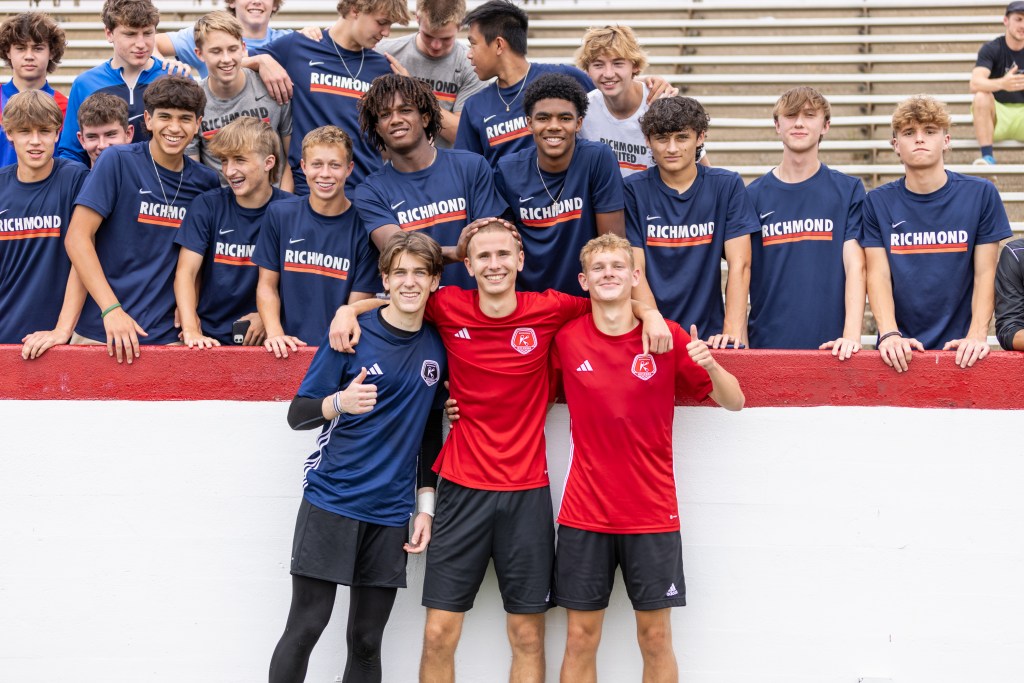 Rob Ukrop, Richmond Kickers' Chairman and Chief Executive Officer said:
"We are thrilled to sign Beckett to his first professional contract. We admire Beckett's work ethic, competitive spirit, and commitment to the larger RVA community. It is always great to see homegrown talent grow and develop, and we are committed to helping Beckett fulfill his potential in the coming years at City Stadium. As we continue working with Richmond United and other clubs in our region to develop players both on and off the field, Beckett is a wonderful example of this refreshed partnership to strengthen our community through the beautiful game."
Darren Sawatzky, Richmond Kickers' Head Coach and Chief Sporting Officer said:
"Signing Beckett further entrenches our initiative to build with local players and to play the top young talents in Virginia representing their hometown club. Beckett worked incredibly hard this season to earn valuable minutes and his progression warranted the opportunity to grow here as a professional for years to come. He is a feisty warrior with a quality left foot, bite in the tackle, and his demeanor in the locker room is what we look for in our culture. The real work starts now for Beckett but we know he will continue to excel and learn as we rekindle our winning pedigree in 2024 and beyond."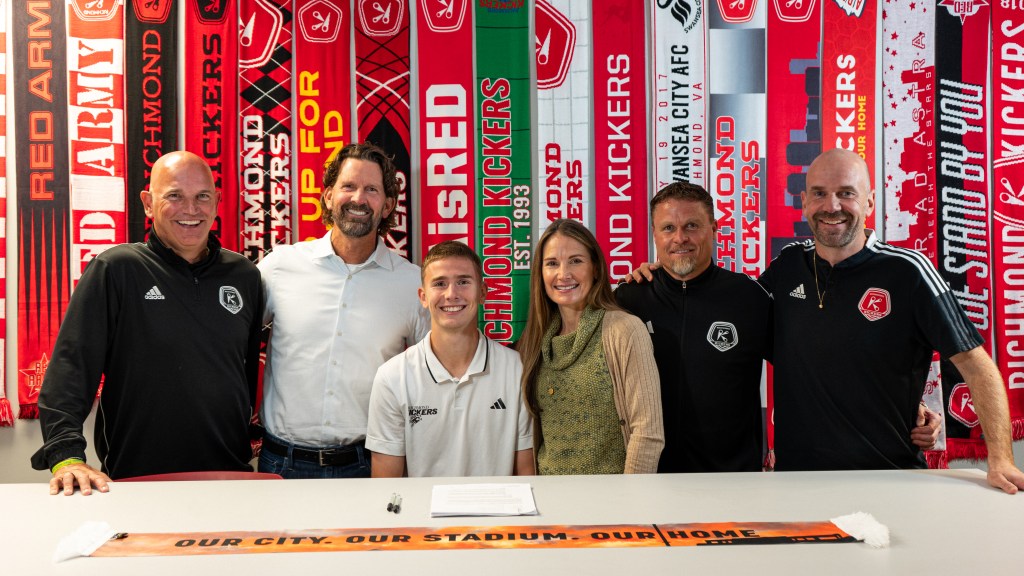 Mika Elovaara, Richmond Kickers' Head Assistant Coach and Director of Methodology and Player Development said:
"I could not be happier for Beckett and his family for this huge step in Beckett's career. From the first time I met him a few years ago, Beckett has impressed me with his character and maturity. Throughout his first season with us, he remained humble and hungry, patient and persistent, and eventually earned his opportunity to play significant minutes on the field. He is a key member of our team, setting an example to other young players on what it means to be professional on and off the field. I can't wait to get back to work with him!"
Stay up to date with all of the Kickers news at RichmondKickers.com and on social media on Facebook, Twitter, Instagram, and YouTube. Download the Richmond Kickers mobile app for news, contests, and more!

TRANSACTION: Richmond Kickers sign Beckett Howell to a multi-year contract on Monday, Oct. 30, 2023.