Richmond Kickers 4, Central Valley Fuego 5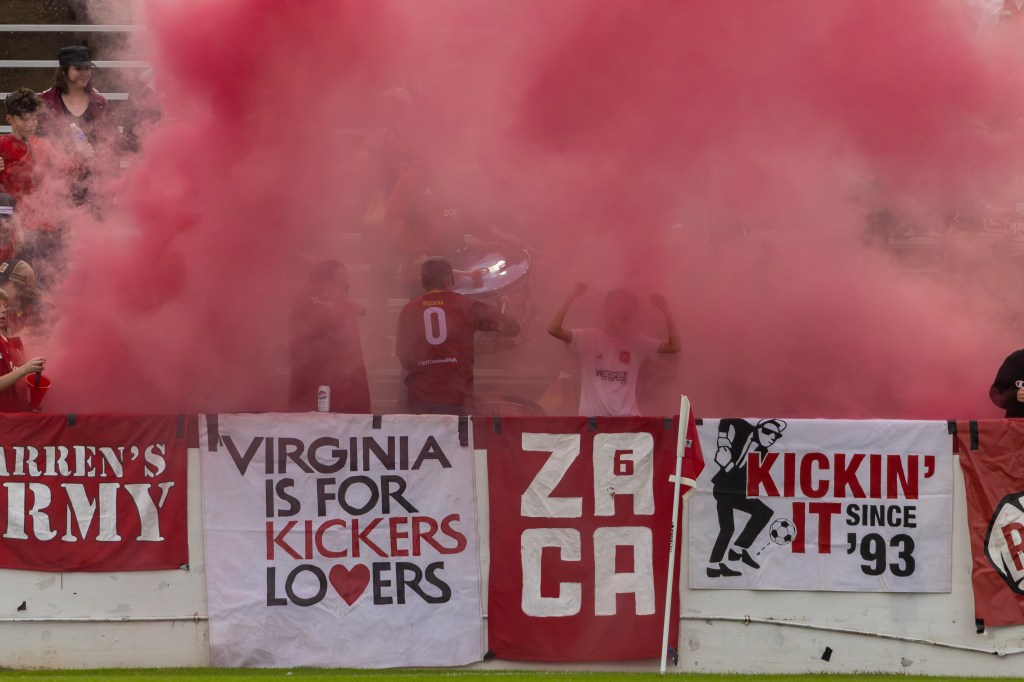 | | | |
| --- | --- | --- |
| RICHMOND KICKERS | 4 | 9′ O'Dwyer (Hornsby), 26′ Fitch, 45′ Vinyals (penalty) 84′ Vazquez (own goal) |
| CENTRAL VALLEY FUEGO | 5 | 33′ Dieye (Cerritos), 42′ Sukow (own goal), 46′ Dieye (Cerritos), 70′ Hanson, 86′ Falck |
RICHMOND, Va. — The Richmond Kickers (6-15-11, 29 pts) fell 5-4, Saturday night, to Central Valley Fuego FC (6-21-5, 23 pts) in the team's season finale and the league's highest-scoring match of the 2023 season.
The Kickers started fast, netting the first goal of the match in the ninth minute from the corner. Michael Hornsby drove a cross toward the front post as Chandler O'Dwyer got in front of his defensive marker. The Englishman rose up, lowered his head, and powered the ball into the net.
Richmond doubled its lead from the corner again in the 26th minute. Hornsby delivered another cross to the near post that O'Dwyer flicked on target. Fuego had the near post covered and blocked the shot, but the ball dropped to the feet of Simon Fitch who reacted quickly and fired a shot into the back of the net.
Fitch's strike marked the second of his professional career after the homegrown defender netted his first professional goal earlier in the season at home.
Fuego halved the lead seven minutes later after Cherif Dieye hit a curling shot just inside of the box. Several minutes later in the 42nd minute, a shot from Razak Cromwell deflected off of Justin Sukow and into the net.
The Kickers regained their lead right before the end of the half. Beckett Howell – making his fourth-ever professional start – completed a heroic run up the right wing, dodging a tackle, and cutting the ball into the box before lacing a pass to Luke Pavone. As Pavone collected the ball, he was taken to the ground by the Fuego goalkeeper and the referee immediately pointed to the penalty spot.
Vinyals buried his penalty kick attempt, marking his second-straight match with a converted penalty.
In the 46th minute, Dieye found an equalizer after picking out the top-right corner with a curling shot. Harold Hanson earned Fuego's first lead of the night in the 70th minute after converting a rebounded shot.
Vinyals delivered the Kickers' equalizer in the 84th minute from the left corner. The midfielder played a cross to the middle of the box that caught the top of the foot of Fuego's Zahir Vazquez and deflected into the net.
Fuego found the final lead change of the night in the 86th minute after Victor Falck earned a one-on-one with Akira Fitzgerald and squeezed a shot on target as the keeper came off his line to shut down the attempt.
The season series against Fuego ended split after the Kickers earned a 2-1 win in June at Fresno before the two sides drew 3-3 at City Stadium in August.
Stay up to date with all of the Kickers news at RichmondKickers.com and on social media on Facebook, Twitter, Instagram, and YouTube. Download the Richmond Kickers mobile app for news, contests, and more!