The 16-year-old becomes the first Kickers player on a USL Academy Contract to sign a professional contract with the club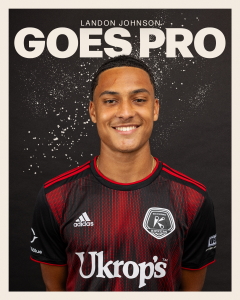 RICHMOND, Va. – The Richmond Kickers are pleased to announce that forward Landon Johnson has signed his first professional contract to represent his hometown club on a multi-year deal, pending league and federation approval.
Johnson, who previously signed with the club on a USL Academy contract on July 11, 2023, is the first academy player to sign a professional contract under Chief Sporting Officer and Head Coach Darren Sawatzky. At 16 years, 10 months, and 2 days old, Johnson is the youngest professional player to sign directly with the Kickers.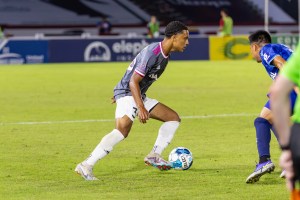 Johnson's contract signifies the next step in the club's mission to evolve the player development pathway in the community so that local kids with aspirations to play professionally at the highest levels can work to achieve that reality while growing up with the comforts of home.
The Chesterfield native first joined the Kickers after playing away from home for a year with the Atlanta United Academy. Since then, Johnson has amassed 217 minutes played in three starts across seven appearances in USL League One. His debut came in the club's international friendly against Comunicaciones FC on July 18, 2023.
Landon Johnson said:
"I have always dreamt about being a professional. To be able to do it for the team I grew up watching, and a team my brother played for is very special to me. This is truly an opportunity I could not pass up. This is an amazing group to learn from the players to the staff. I'm learning and developing every day from some of the best in the league."
"Darren had pulled me aside one day after training and said, 'We need to talk about your future.' He asked me if being a professional was what I really wanted and I said, 'Yes.' He responded by saying he would be in touch with my parents soon. Darren told my dad he has been developing players for over 25 years and I have the tools to be a professional. My goal is to play at the highest level, and in order to do so, Darren, my parents, and I agreed signing now would help me achieve my dream."
Rob Ukrop, Richmond Kickers' Chairman and Chief Executive Officer said:
"We are thrilled to announce Landon's signing to a first-team contract. Ever since Darren arrived to lead our sporting side at the end of 2019, we have talked about building the infrastructure to fully develop the young men and women in the RVA region to find their full potential in the game. We believe the best pathway for young Richmond soccer players is through Richmond, and to sign such a talented and humble young man like Landon Johnson is an honor for the club. We hope he will be the first of many young Richmonders to represent the badge at City Stadium and beyond."
Darren Sawatzky, Richmond Kickers' Head Coach and Chief Sporting Officer said:
"When I arrived in Richmond, we worked very hard to bring a winning culture back to our storied club. The work we have done culminated in a Players Shield Championship in 2022. We all want to win trophies and we will work to do this every year, but with our academy in Richmond United, we are working to evolve the Richmond player pathway into a model that develops generation after generation of players through the youth ranks, into the professional ranks, then on to the highest levels of the game. This has been the long-term goal; to win games with local players developed through a fully integrated pyramid here in Richmond. Landon represents the start of this model and we couldn't be more excited to have a local player choose the opportunity to develop locally with the professional club. It will take time to achieve this goal on the scale needed, but we are committed to this goal while working hard to put a winning product on the field for our fans."
"Landon is a crafty player with pace and dribbling ability that will grow as he works in the professional game. He is getting more and more productive and he has been rewarded with valuable minutes in important games. With Landon, and with the players that will choose this pathway, there is not an exact timeline on the development to the higher levels. When he is ready, we will work to help him move on to the highest level his potential offers. For now, we appreciate his work ethic and his desire to grow in the environment and culture. It is a testament to his work that he is playing significant minutes and ultimately signed a professional deal here. He fits the character culture, and his ceiling is high. With Landon, and with all our young dream chasers, we will work tirelessly to help them chase their dreams in the confines of our storied home in City Stadium."
Mika Elovaara, Richmond Kickers' Head Assistant Coach and Director of Methodology and Player Development said:
"Signing Landon is a big moment for us all. In the past several seasons, we have brought on young players from outside of Richmond – Ethan Bryant and Stuart Ritchie to name a few – and helped them develop and move on in their careers. Now, when we finally have a full pathway and people working with shared goals for our whole community, we are starting to see what is truly possible for players in Richmond: fulfilling the dream of becoming a professional athlete and playing for your hometown club."
"Everyone who was at City Stadium on Landon's debut night saw that he has the potential to be a productive attacker, excite the fans, and bring electrifying qualities to the field. Off the field, he exemplifies our core cultural values and therefore helps set an example for the young men and women in the RVA soccer community. I am looking forward to digging even deeper into the details with him and helping him grow as a man and as a soccer player for the next several years."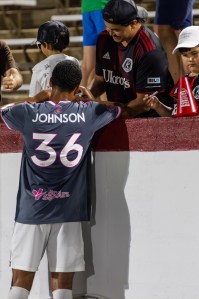 Richmond are on the road this Thursday, Sept. 14, as they prepare to face Forward Madison at Breese Stevens Field. The match is set to kick off at 8 p.m. The team will hold an official watch party at Triple Crossing Downtown.
The Kickers return home on Saturday, Sept. 23, to host Greenville Triumph SC on Noche de la Hispana presented by the Virginia Hispanic Chamber of Commerce. The doors at City Stadium are set to open at 4:45 p.m. ahead of the 6 p.m. kickoff. Tickets are available at richmondkickers.com/tickets.
For just a yearly subscription of $35, fans unlock up to 50% off their tickets, 15% savings on Kickers' swag, and more with a Kickers+ Membership! This steal of a deal pays for itself after your first four (4) purchased tickets. Become a member and start saving today! Additional information can be found at richmondkickers.com/kickersplus.
Stay up to date with all of the Kickers news at RichmondKickers.com and on social media on Facebook, Twitter, Instagram, and YouTube. Download the Richmond Kickers mobile app for news, contests, and more!

TRANSACTION: Richmond Kickers sign Landon Johnson to a new multi-year professional contract on September 12, 2023.