Union Omaha 2, Richmond Kickers 1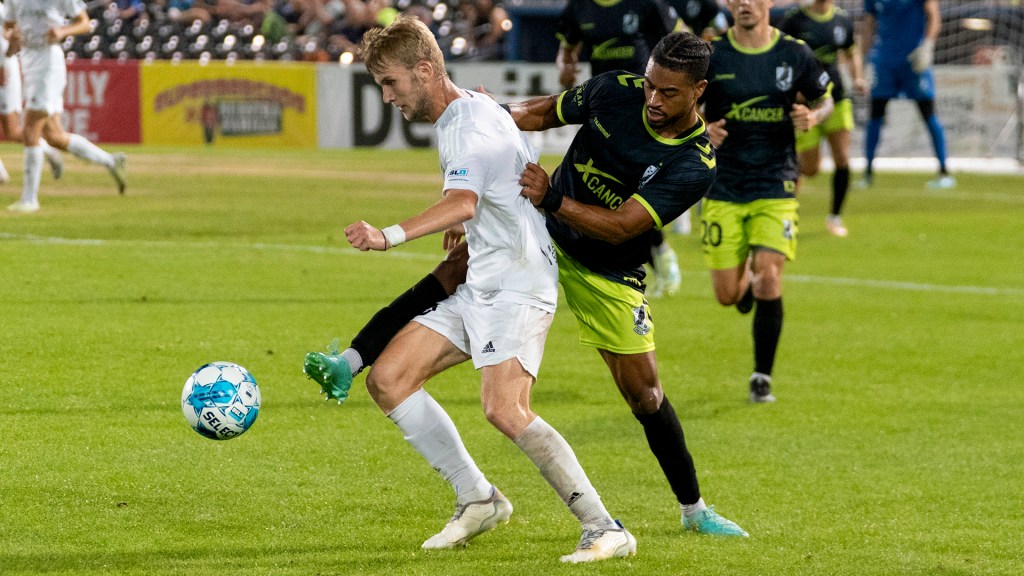 | | | |
| --- | --- | --- |
| RICHMOND KICKERS | 1 | 90+2′ Brewer (own goal) |
| UNION OMAHA | 2 | 58′ Dolabella (Doyle), 82′ Gil (Meza) |
PAPILLION, Neb. — The Richmond Kickers (6-11-10, 28 pts) fell on the road 2-1, Saturday night, to second-place Union Omaha (14-5-8, 49 pts).
The first half was a back-and-forth affair as Richmond owned possession and Omaha attacked on the break.
In the 28th minute, Nil Vinyals fired off one of Richmond's best chances of the half. The midfielder charged into Omaha's final third before shaking his defensive marker at the top of the box. He cut the ball back to his right foot and hit a curling shot that forced a save from the Omaha keeper.
In first-half stoppage, a double tackle from Nathan Aune kept the net clear. A cross into the box found Steevan Dos Santos in the danger area as Aune quickly went to ground and kicked the ball away from the forward. As Dos Santos moved towards the half-cleared ball, Aune, still on the ground, extended his leg out and kicked the ball away a second time.
Omaha found the first of the night from a corner in the 58th minute. Conor Doyle served in a cross that found Pedro Dolabella who guided a header into the net.
The hosts doubled their lead 24 minutes later in transition. Luis Gil received a pass from Noe Meza at the top of the box. He took a touch and hit a shot that found the back of the net.
The Kickers cut the hosts' lead in half in the second minute of second-half stoppage. Chris Cole launched a throw-in into the danger area, and Omaha's Shaft Brewer headed the ball backward into the net for an own goal.
With four minutes of stoppage remaining, the Kickers pushed to rally and find the equalizer, but the hosts held on until the referee's final whistle.
Richmond stays on the road as they prepare to face Forward Madison, Thurs., Sept. 14th, at Breese Stevens Field. The match is set to kick off at 8 p.m. The team will hold an official watch party at Triple Crossing Downtown.
The Kickers return home on Saturday, Sept. 23rd to host Greenville Triumph SC on Noche de la Hispana presented by the Virginia Hispanic Chamber of Commerce. The doors at City Stadium are set to open at 4:45 p.m. ahead of the 6 p.m. kickoff. Tickets are available at richmondkickers.com/tickets.
For just a yearly subscription of $35, fans unlock up to 50% off their tickets, 15% savings on Kickers swag and more with a Kickers+ Membership! This steal of a deal pays for itself after your first four (4) purchased tickets. Become a member and start saving today! Additional information can be found at richmondkickers.com/kickersplus.
Stay up to date with all of the Kickers news at RichmondKickers.com and on social media on Facebook, Twitter, Instagram, and YouTube. Download the Richmond Kickers mobile app for news, contests, and more!