Richmond earned two wins and one draw over the Jacks in 2022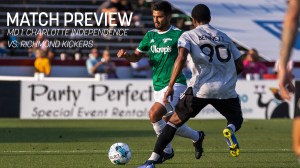 Match Details:
Competition: USL League One Regular Season
Date: Saturday, March 18, 2023
Kickoff: 5 p.m. ET
Location: American Legion Memorial Stadium, Charlotte, N.C.
Forecast: 56F/32F, Partly Cloudy
Broadcast TV: CBS 6.3 Online: ESPN+
Referee: Danielle Chesky
Asst. Referees: Jeremy Smith, Joe Suchoski
4th Official: Joe Surgan
Uniform Details:
The Roos will be wearing The Icy Kit in Charlotte this weekend. Order yours today, and don't forget to get it customized!
News and Notes:
DEFEND THE SHIELD: For the first time in the USL League One Era, and the first time since the 2014 season, the Kickers enter a league season defending a regular-season title.
The Kickers' record-breaking 2022 season ended with the Kickers hoisting the new USL League One Players' Shield for earning the best regular-season record in USL League One.
Following a heartbreaking exit in the semifinals, the Roos are looking to not only defend the shield but reach the mountaintop that they were so close to reaching just months ago.
RELOAD, NOT REBUILD: Richmond returns 18 players from its 2022 roster including the likes of back-to-back-to-back USL League One MVP and Golden Boot Winner Emiliano Terzaghi and multiple All-League selection and 2021 Goalkeeper of the Year Akira Fitzgerald.
Additionally, standout offensive talents Nil Vinyals, Owayne Gordon, and Matthew Bentley who combined for 16 goals and 11 assists are back to help Terzaghi put the ball in the back of the net.
New to the squad is USL Championship veteran Kharlton Belmar. A winger with a penchant for scoring, he brings a wealth of experience after making 200 appearances in USL Championship.
A HISTORIC REGIONAL RIVALRY RENEWED: Foes in the USL Championship, Richmond and Charlotte restarted their rivalry in 2022 following a three-year break.
In the first matchup of 2022, the Kickers won 2-1 which marked their first win over the Jacks since the 2015 season. The Roos would again earn a win in the return leg at City Stadium to the tune of 4-0 when Jonathan Bolanos equaled the league's single-game assist record of 3.
The final match between the two sides in 2022 was back in Charlotte with the Kickers stealing a point with a second-half header from Owayne Gordon.
THE ICY KIT MAKES ITS DEBUT: The Iced Out Kit will serve as the Kickers' secondary jersey during the 2023 season. Featuring a more fashion-forward design, the jersey is designed to not only compliment the players on the field but fans wishing to pair the jersey with streetwear and even jewelry.
The 2023 Iced Out Kit from Adidas features a white Mi Campeon 23 jersey with custom silver sponsor logos, nameplates, and numbers.
Next Home Match:
The Kickers kick off their City Stadium season on April 1 at 6 p.m. against Charlotte Independence. Get your tickets now before we sell out!