The quintet was instrumental in the Kickers earning their first regular-season title since 2013 and first home playoff match since 2014.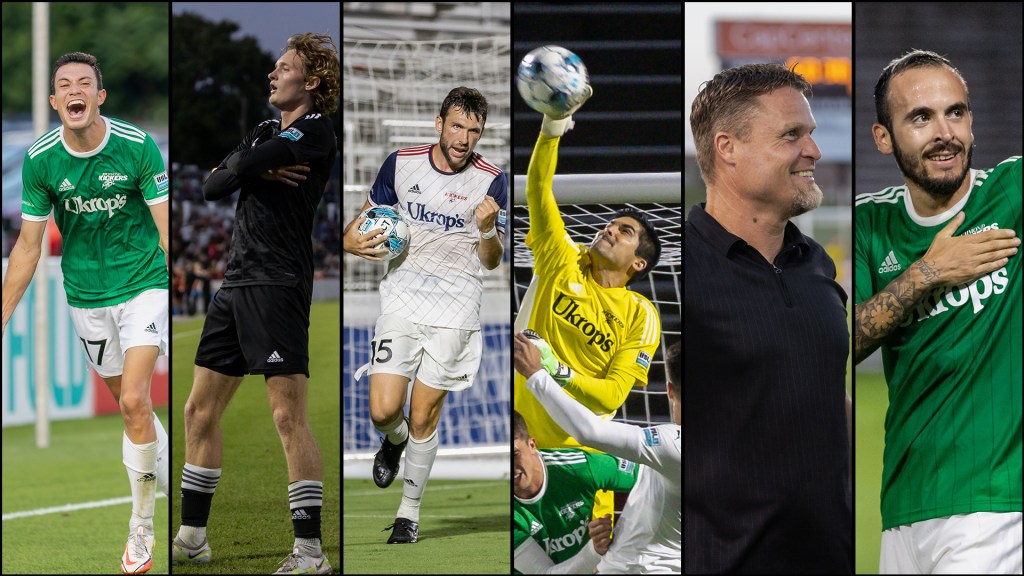 TAMPA, Fla. – (Thursday, October 27, 2022) — USL League One announced on Thursday that Richmond Kickers' forward Jonathan Bolanos, midfielder Ethan Bryant, defender Jalen Crisler, goalkeeper Akira Fitzgerald, Head Coach Darren Sawatzky, and forward Emiliano Terzaghi were all nominated for end of season awards as top talents in the league.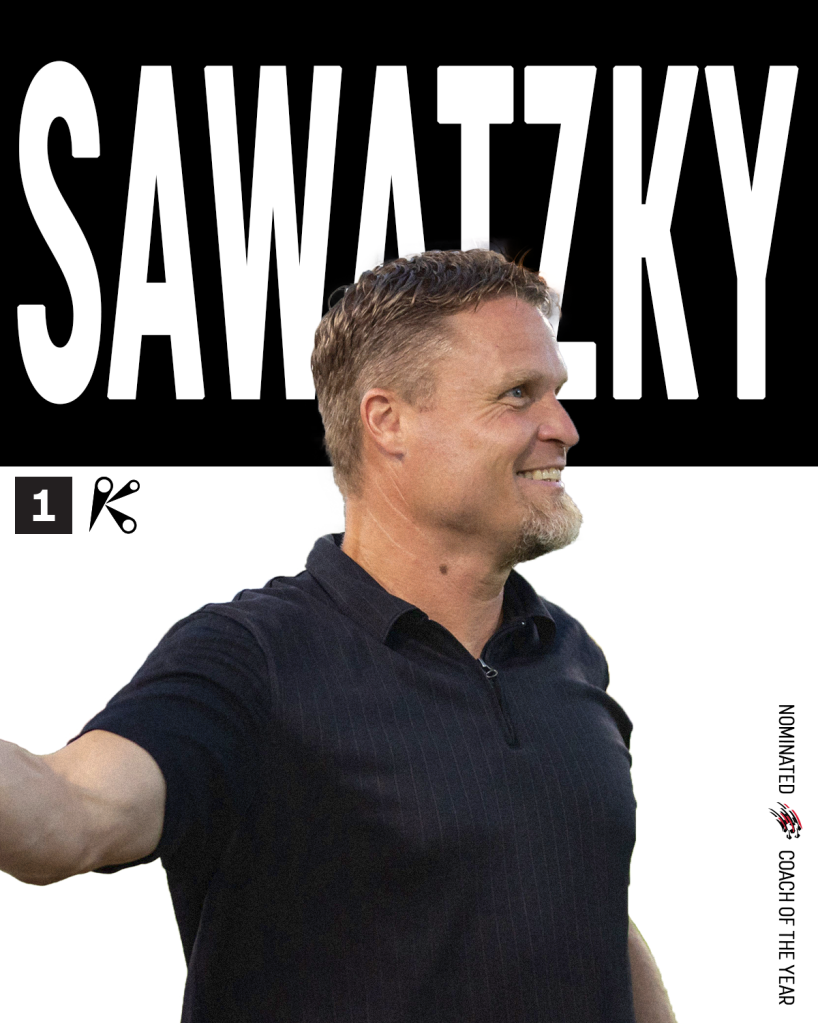 Sawatzky earns his first nomination for USL League One Coach of the Year after guiding the Roos to their best regular-season finish in almost a decade while constructing the highest-scoring offense in league history and amassing the second-most regular-season points ever in a regular season.
"We are grateful for the recognition from our peers in the league," Coach Sawatzky said. "I am lucky to work with some incredible people here in Richmond with Mika [Elovaara], Akira [Fitzgerald], Gigo [Perez], and Ray [Smetanick] on our technical staff. To be nominated as a coach of the year is special and appreciated, and we will continue to work toward helping the game grow in this country while we fight to win championships."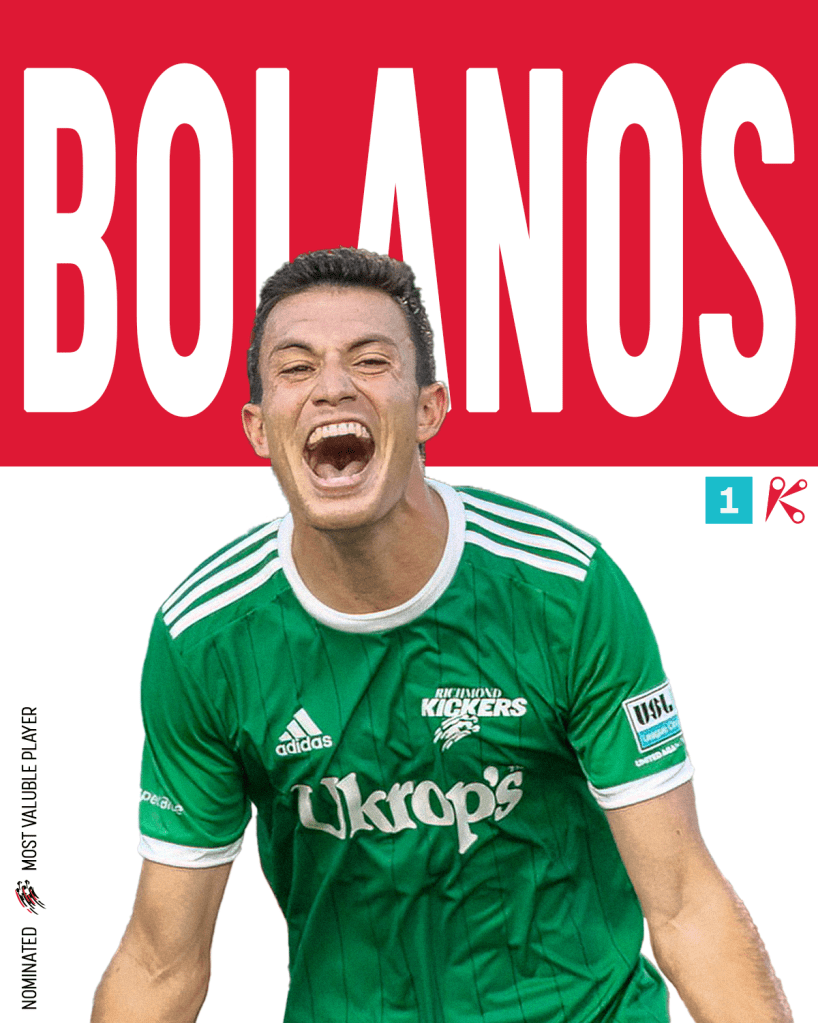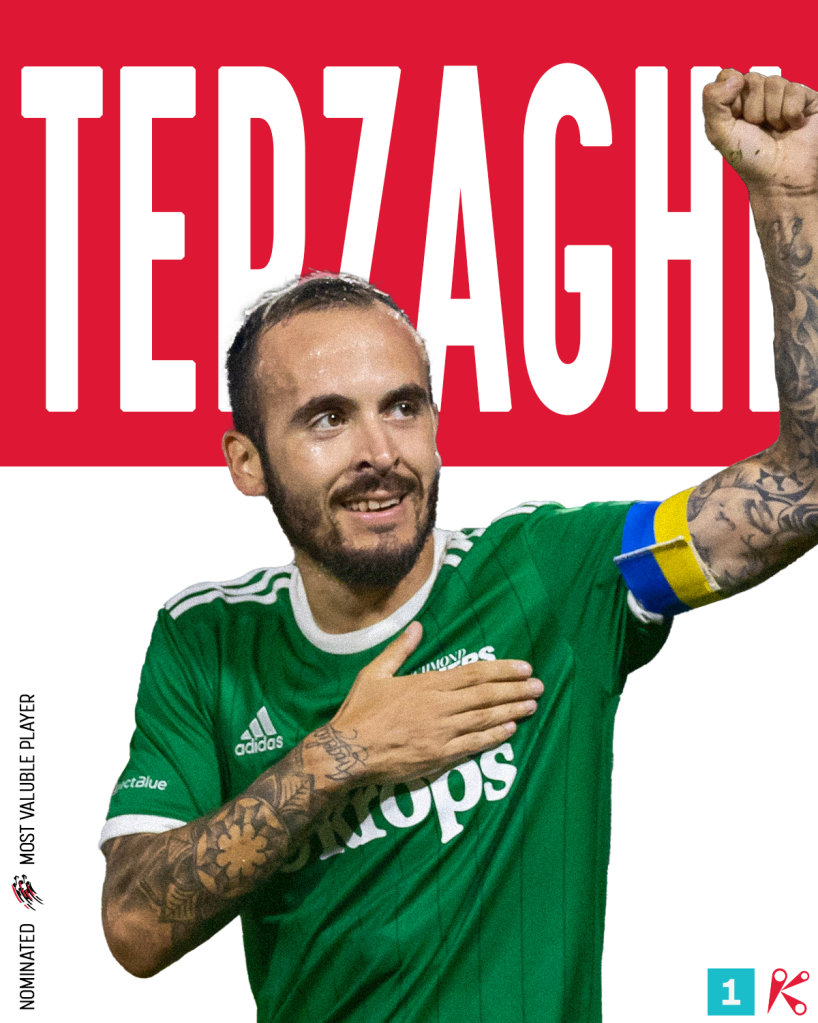 Bolanos and Terzaghi both earn nominations for the league's coveted Most Valuable Player award. It marks the third-straight season that Terzaghi has been nominated for MVP after earning the honor in 2020 and 2021.
"It is an honor for me to be nominated for a third time to be able to achieve this award," Terzaghi said. "I want to thank my teammates and everyone in the club and in the community who was along the way to help me get here."

Bolanos, fresh off his first appearance in the league's All-League First Team, earns his first nomination for MVP.
"To be named to the All-League First Team is something you dream about as a young player, yet dreams become goals, and being named an all-league player and receiving an MVP nomination were on my list when I arrived in Richmond three years ago," Bolanos said. "I am truly humbled by the MVP nomination from the league. Being recognized as an integral piece of the Kickers is an honor, and I wouldn't be here without my teammates.
"Richmond is truly a special place, and we owe the fans one more trophy as we hope to close out this year with a championship."
Reigning 2021 Goalkeeper of the Year Fitzgerald earns his second-straight nomination for Goalkeeper of the Year and third overall. The league's first player to ever reach 100 appearances and record over 100 saves in a season is coming off of an All-League Second Team selection.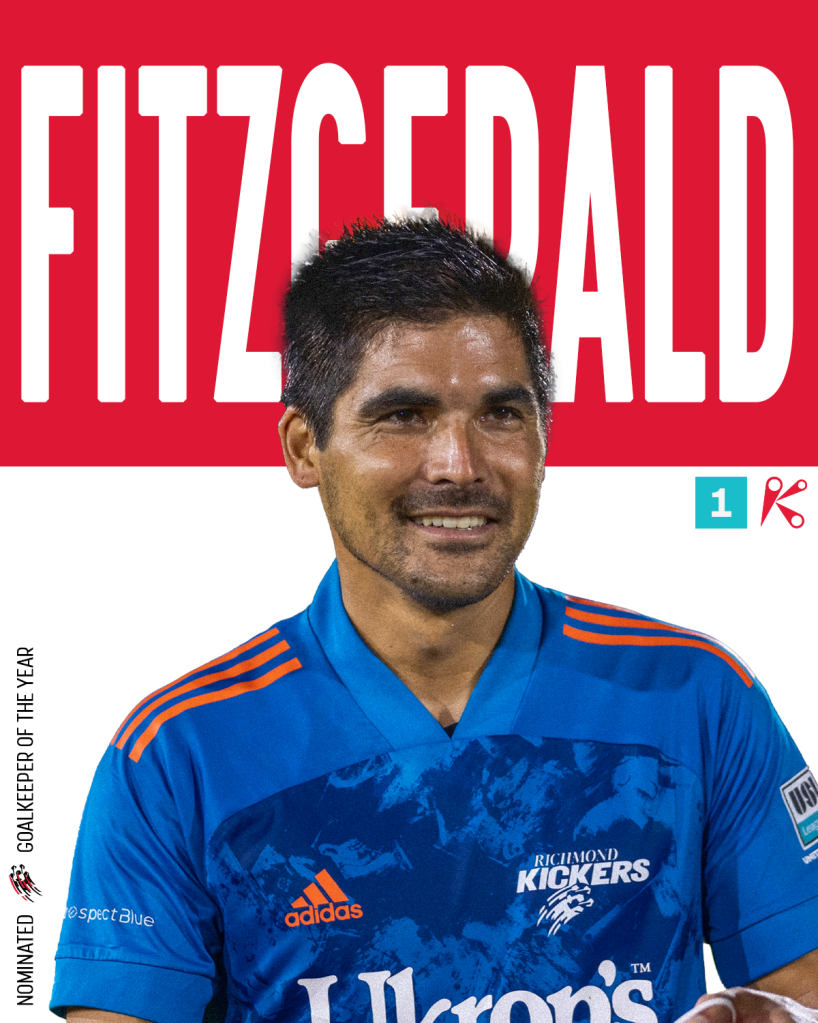 "I'm happy to be nominated for Goalkeeper of the Year and All-League," Fitzgerald said. "I believe this is a reflection of our entire goalkeeping department and the incredible work we all put in throughout the year. Most importantly, I am happy we can continue to work together as a team right now and prepare for our semifinal."
Crisler earns his first-ever nomination for Defender of the Year after leading one of the league's most-suffocating backlines that conceded the second-fewest goals all season. The second-year Kicker led all outfield teammates with the most minutes played on his way to his first All-League First Team selection.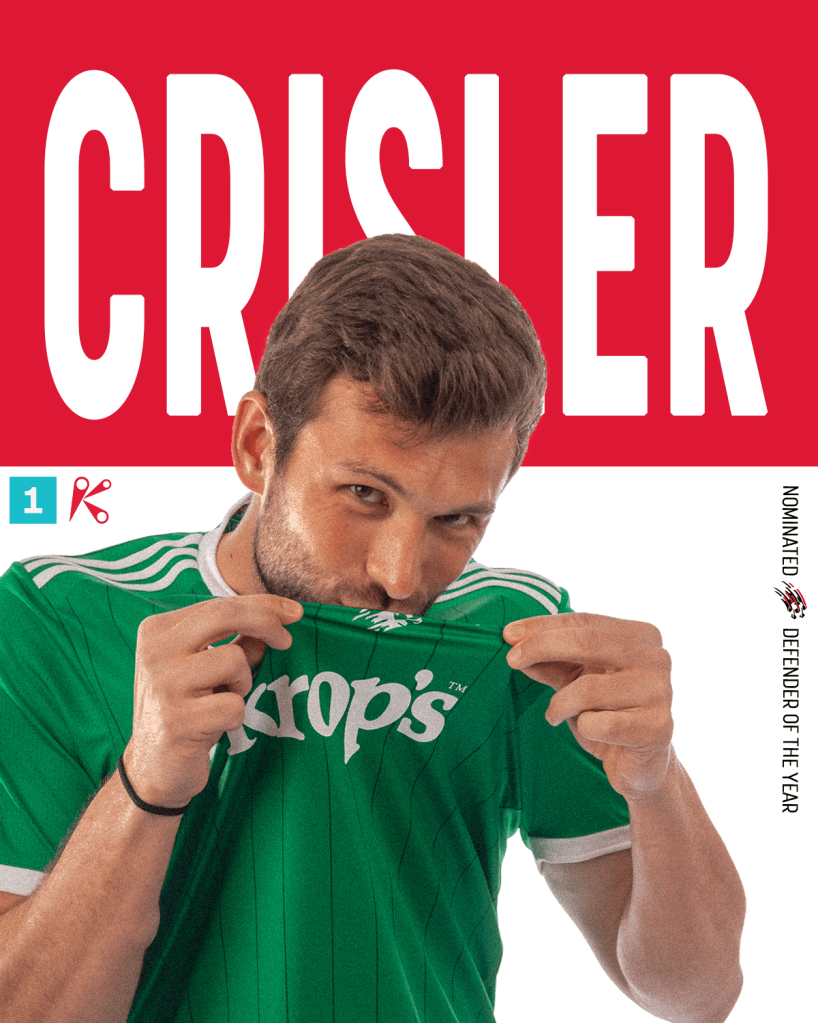 "It's an honor to be recognized for All-League First Team and nominated for Defender of the Year," Crisler said. "This league is full of talented players, and to even be considered for this award is something I'm proud of.
"None of this would be possible without my teammates, coaches, trainer, and those who have supported us all year at City Stadium and afar. We've had a great year that was capped off by winning the regular-season title, and we're looking forward to competing for another championship in the playoffs."
Bryant earns his first-ever nomination for Young Player of the Year after putting together one of the most underrated midfield performances in the league. In his first full season with the Kickers, the 21-year-old earned three placements in the league's team of the week during weeks 10, 11, and 26. In the center of the park, he helped pull the strings for the Kickers' offense that saw him rank second on the team in chances created with 30, second on the team with five assists, and tied for sixth on the team with three goals.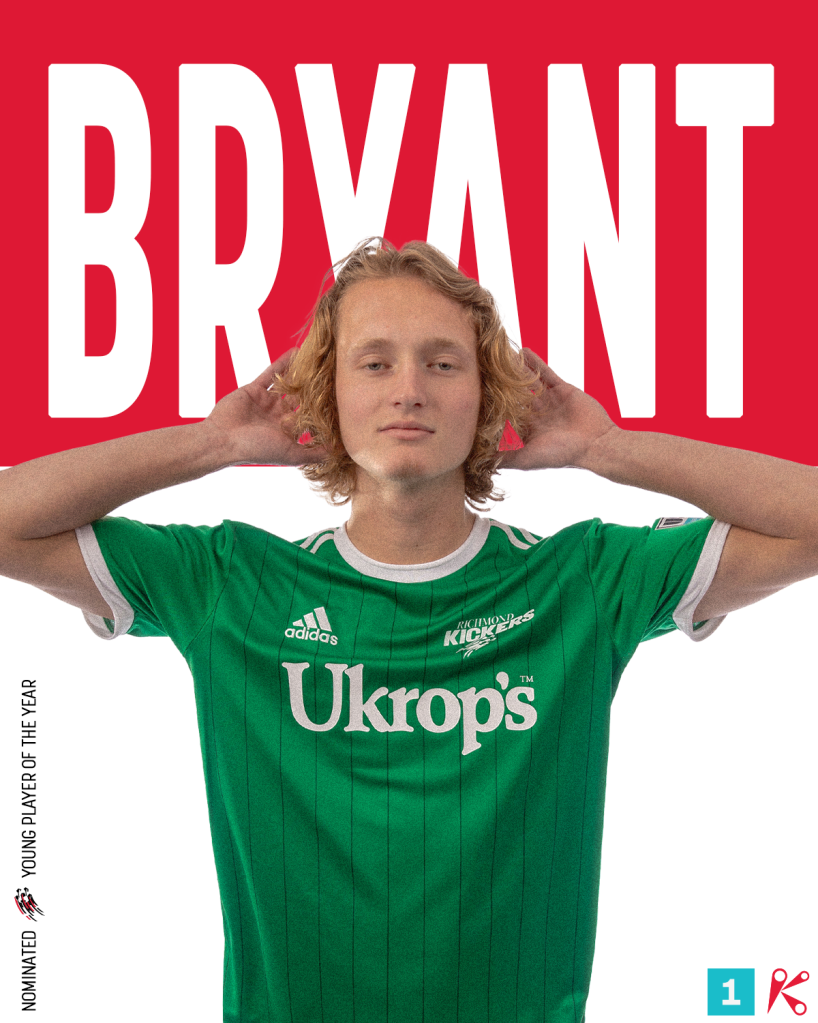 "Being nominated for individual awards emphasizes the success we have had this year as a collective," Bryant said. "It was a goal of mine to be up for this award since the start of the season, and I'm very happy to be recognized by the league.
"I am thankful to the staff and my teammates for allowing me to be in this position. Our regular season was very successful in a lot of ways, but we have a two-game season ahead of us and we are hungrier than ever."
#1 Richmond is set to host #4 Chattanooga Red Wolves SC in the USL League One Semifinals, presented by Hisense on October 29. Kickoff time for the semifinal match is set for 6 pm.
During the semifinal match, the Kickers will host a Blackout City Stadium night, presented by The Lemus Group and United Real Estate Richmond. The first 1,000 fans at the match will receive a Black Out T-Shirt. Playoff tickets are available for purchase at richmondkickers.com/tickets.

Stay up to date with the latest news from the Kickers at RichmondKickers.com and on the official team app.