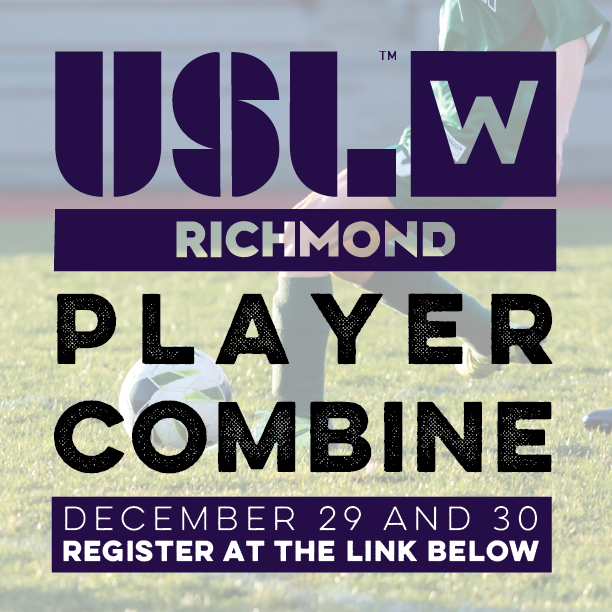 W League RVA is pleased to host a Player Combine for elite youth players, collegiate players, aspiring professionals, and former professionals who are looking to play on Richmond's new team in 2024. The combine will offer open registration for women ages 15 and over to participate in single-day sessions of training and scrimmages.
When
December 29 and December 30, 2023
The combine will begin each day with registration, player meeting, technical session, and small-sided games followed by a quick lunch break and fullsided play in the afternoon. Friday and Saturday will each be their own individual day of assessment. If you would like to be seen both days, the opportunity is available but each session will follow the same schedule.
Schedule – December 29 and 30
Friday, December 29 – Check-in from 8:30 to 9:00 am, Session from 9 a.m. to 11 a.m. with a lunch break in between. Session continues from 1 p.m. – 3 p.m.
Saturday, December 30 – Check-in from 8:30 to 9:00 am, Session from 9 a.m. to 11 a.m. with a lunch break in between. Session continues from 1 p.m. – 3 p.m.
Lunch will not be provided on site so please plan accordingly. Participants are allowed to leave the facility with legal guardians during the lunch break if they would prefer.
Where
Ukrop Park – 5300 Ridgedale Pkwy, Richmond, VA 23234
Registration Fees and Information
The cost to attend is $60 per session. Application and payment must be received on or before December 18, 2023. Registration fees are non-refundable and must be paid in advance, online only. No checks or cash will be accepted. No payments will be accepted on the day of the combine. The combine fee does not include lodging, transportation, or meals. If you have any questions please contact wleaguescouting@richmondkickers.com.
Talent Evaluators
Player combine sessions will take place in front of the W League RVA talent evaluators, led by Sporting Director Madeline McCracken, Richmond United Technical Director Mika Elovaara and other evaluators from W League RVA and Richmond United.
W League RVA's First Combine
Attendance at the W League RVA Player Combine is one of the best opportunities to ensure that a player's complete soccer resume and professional evaluation is in front of key decision makers for the W League RVA organization.
This is also the first Player Combine for W League RVA as the team enters its inaugural season. Attendees will receive a USL W League Richmond t-shirt and have the opportunity to play in front of W League RVA talent evaluators.